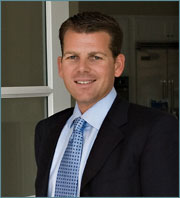 Garrett Calacci
Waterpointe Custom Homes

Garrett Calacci graduated from the University of Southern California with a business/real estate finance degree. After completing his education, Garrett purchased and then converted duplexes on the Balboa Peninsula into appealing condominium homes. These undertakings soon lead him to a challenging venture in residential real estate brokerage with Coast Newport Properties.
In 2001, he made the decision to move into a new realm of development with various partnerships—ground-up construction projects. Currently through his company—Waterpointe Homes and Waterpointe Home Sales—Calacci focuses on infill development; crafting quality housing in the Newport Beach and Costa Mesa areas of California. In addition to construction developments, he has expanded to land entitlement projects, allowing him the opportunity to entitle and sell to nationally renowned builders. His great pride in Waterpointe Homes stems from the meticulous attention given to each home and each individual homeowner, generating a solid reputation with both the buyers and their respective cities. Throughout Southern California, Calacci is indisputably recognized as a builder who provides competitively priced products that gracefully blend quality craftsmanship with striking design.